Q & A with Damen Bell-Holter; from small Alaskan village to NBA dreaming
By Brent Cahwee, ndnsports.com
(Editor's Note: We recently had an opportunity to catch up with Native American professional basketball player Damen Bell-Holter who is now working out with the NBA's Boston Celtics. Below is a transcript of some of what we chatted about, we thank Damen for taking the time to speak with us. For those that don't know about Damen, he hails from a small village town of about three hundred people in Hydaburg, Alaska, as member of the Haida nation. Which refers to both the people as a whole and also their government. Damen graduated high school in 2008 from Ketchikan High School where he was a two-time first team 4A All-State selection. After high school, Damen attended prep school at New Hampton School in New Hampton, N.H. where we played along with four other NCAA Division I signee's. In 2009, after signing with Oral Roberts University, he averaged 4.6 points and 3.2 rebounds per game and averaged 15 minutes per game in a 33 game span. In his sophomore year, Damen earned honorable mention All-Summit League honors and nearly tripled his scoring and rebound average. By his senior year, Damen was a dominate presence in the paint for the Oral Roberts Golden Eagles and garnered many awards throughout his college career. Going undrafted after his senior year, Damen kept pressing on in hopes of getting an opportunity to play professional basketball. Attending many player combines and camps Damen was able to finally earn a contract with a professional team out of Germany called the Telekom Baskets Bonn. Shortly after arriving in Germany, Damen received a call from his agent, it was the opportunity he had been waiting for his whole life. )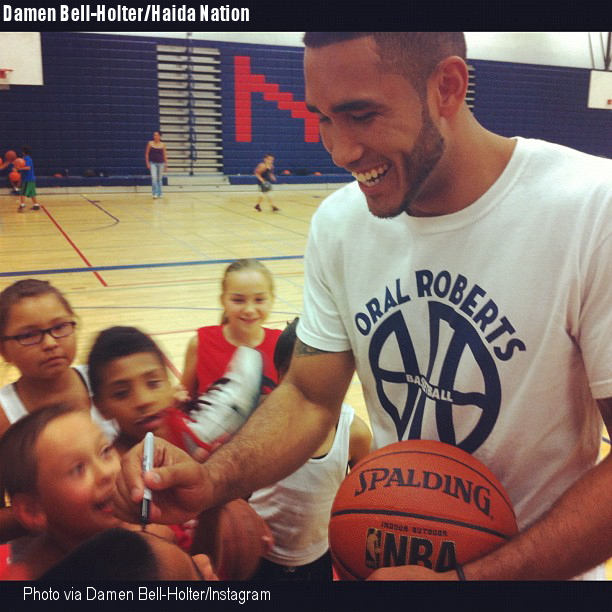 Damen Bell-Holter signing autographs for the youth
NDNSPORTS: How are doing and how long have you been back stateside since coming back from the Germany professional team?
DBH: It's going good, I mean I have been out here almost two weeks, just working out with the (Celtics) team and at the gym lifting and just getting used to this. It's been pretty cool.
NDNSPORTS: Talk about where you grew up, how that influenced you?
DBH: I am from Hydaburg, Alaska, it's a small little village on an island called Prince of Wales-Hyder and my town is literally like 300 people and like the closest people to us are like a 45 minute drive. It's just like really small and has a lot of alcoholism, which is really big on a lot of reservations with Native Americans. We all know that, I am just trying to help fix that. It is really bad there with the drugs and everything. There is a lot of good that came with growing up in that culture of learning to how to live from of the land (hunting and fishing) and all those different things. I always tell people, it was rough and tough sometimes growing up but I wouldn't want to be or grow up anywhere else.
NDNSPORTS: Alaska not necessarily known lower stateside for basketball players, when did you know you wanted to play basketball?
DBH: I mean it's huge in all the small towns in Alaska and that is the thing I've talked about before is that it is really disappointing that many players haven't gone on to play college, even junior college, division II and all those small schools. There is just a ton of talent in those small towns. I was probably say in 1st grade is when I starting getting into basketball but I didn't start getting super serious until probably about 6th or 7th grade.
NDNSPORTS: After high school, you received scholarship offers to play, why you chose ORU?
DBH: When I was recruited I had a handful of offers from mostly schools on the west coast and then I was originally supposed to go to school at Missouri State because of coach Kyan Brown, he's really been like a big brother to me, he is an assistant coach at ORU but that is why I was going to Missouri state because he was from Alaska. We built a great relationship in high school and everything and then the staff moved (from Missouri State) to Oral Roberts and ORU had a great program and everything so I just decided to go there. It worked out really well, he developed me and I got decent exposure and it was a good situation for me because I played a lot as a freshman. I took over as a sophomore and then started the rest of my career there.
NDNSPORTS: What prompted you to try and continue your play at the next level?
DBH: Ever since I was a sophomore in high school I knew I was going to play professionally. My coaches were really hard on me and people around me knew I was going to play professionally whether it was overseas or playing in the NBA. That was always my mindset that I am going to get paid for playing this game. It really is tough to crack the NBA, there is only 450 jersey's and when you think about it there are thousands of players out playing professional around the world and when you think about all the guys coming out of college it's not easy. I've realized that ever since I finished school and started going to different camps and work outs. It's not as easy as people think. I mean people think it's hard but it really is a lot harder than people think. It is also has a lot a pressure because your always under the microscope and they are looking at everything you're doing, so if you have a bad day it's not good, especially since you're going against guys that are good too. Guys that are potential NBA players.
NDNSPORTS: After college and training camps, you get an opportunity to play in Germany, talk about that a little.
DBH: I had a handful of offers from overseas and there were some offers for more money but I decided this Germany (Telekom Baskets Bonn) team because this team had played in the second best league in Europe behind the ACB and that is right behind the NBA. So I was like, okay, I am going to take less money to be in this situation because I am going to get better here and it will open doors for the next year.
NDNSPORTS: Not even playing in Germany for a month, you get a call from your agent?
DBH: yeah, my agent, said we are going to talk about the Celtics, they want to put you in for training camp. I was excited about the situation because there were not a ton of guys that got invited, like four of us, plus now there is a roster spot that is open. So it's a great situation, anything can happen.
NDNSPORTS: Did you ever play against new head coach Brad Stevens in college, how did he know about you?
DBH: We (ORU) never played against him, so it was weird to get the call, but I am a big fan of his because I really respect him as a coach so it's been pretty cool to kind of be around him and listen to everything he has to say. You can really tell he knows the game.
NDNSPORTS: So now that you are invited and pre-training before the camp, where do you go from here?
DBH: Well camp doesn't start until the 30th (of September), so I've been out here for almost two weeks just working out and everything. Then there is like a week I think, then that is the first pre-season game and then I think they start making cuts after that.
NDNSPORTS: Talk a little bit about your Blessed 2 Bless foundation, what made you decide to start it?
DBH: That is my brand and everything, that is how I run my camps and stuff and I am going to start doing small things with it. I've been doing camps ever since my first year of college because I decided I want to give back and then I didn't really realize what kind of impact I was having and after my sophomore year I was having a lot of success where kids were contacting me through email saying they saw me on Fox Sports, saying the saw me on ESPN and stuff like that. So when kids are reaching out like that it really tells me something like I have to keep working, keep doing these camps for these kids. I was like I had no idea they were following me, I didn't realize that until I got back to Alaska and the kids were saying they seen this game or that game and they kept up on me and stuff so that's actually been pretty cool but made me realize that it's actually making a difference.
NDNSPORTS: Do you do your camps in Native communities?
DBH: I do a camp in prince wales and there are six communities on the island, it's a mix of peoples. I get a lot of parents that write me on Facebook saying that their kid enjoyed it. It's because when I do my camps I like to focus on the kids a lot, I'm not just trying to make it super serious, I share how I feel with them and open up to the kids and let them know my story and everything. So, sometimes for the kids it seems a little bit more personal for them. Like when people come to do camps in my area, they usually come from the lower 48, and they say don't do this or don't do that but they don't know how it is up here. They don't know how it is to come from a village, to come from a native background. I don't sell them basketball dreams, I tell them that this is my dream so if I could chase my dreams right now you could do anything, it just takes some great work ethic.
I have my camp in Prince Wales, Hydaburg, and Ketchikan. I've gone to Canada three years in a row now and I've done campus and clinics and spoke to the schools. I want to try and do five to ten camps in the summer in Alaska. I want to try and do 4 or 5 in Canada. I want try to do 4 or 5 in the lower 48 and make it to some reservations.
NDNSPORTS: There has been an out pouring of support for you on the internet, what does that mean to you?
DBH: I mean it has been awesome, I've had a good support system from college but just the response it has been getting I mean more and more people have been finding out about my opportunity. I just think it is going to open doors for all native kids and all the kids that are small because if they see a kid like me coming out a little village they might say I have an opportunity to get off the reservation. It gets me really emotional because I come from a small little town and now I am in a locker room with NBA players, it's not supposed to be like that. It's just been pretty cool for people to reach out to me and I really love the support and appreciate it. It just makes me want to work harder.
NDNSPORTS: Have thought about what it would be like to be a part of one of the biggest franchises in all of sports?
DBH: I am trying to focus on working hard every day, staying in the gym and being a good locker room guy. I am just doing all of the small things, if they are looking for character I have good character, so I am just going to keep working hard but to just have the opportunity to be in this environment to be a part of something like this, it is pretty amazing. Like I said, it's the Celtics and it's huge, people don't realize it's an uphill battle to get to a situation like this. But I've been talking to people and I have told them if I make it, it's really going to change my life forever. It's going to change the people in my community lives forever. That's why I am pushing so hard.
NDNSPORTS: Is there anything you want to let people know?
DBH: Never stop chasing your dream, like that is the biggest thing. I never want kids to stop chasing their dreams, no matter what anybody says, no matter what type of negativity is directed towards them. If I can make it from a little village town in Alaska to having this kind of opportunity then I feel like anything is possible. I just want to thank everyone for their support, you can put my Facebook and my twitter out there, if kids want to reach out and if they are interested in the rez tour then let me know.